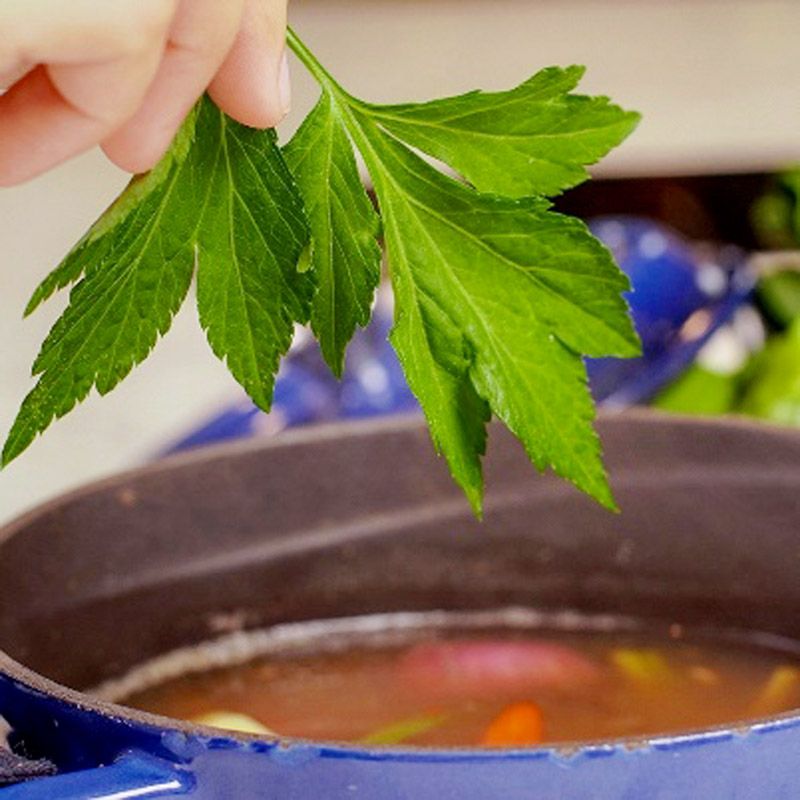 Since ancient times, Chinese mugwort has been used in several applications. The plant is edible and can be used to make pastries, breads, dumplings, and cakes, and can be mixed with rice or processed into tea or wine. It has also been used as an air purifier and a mosquito repellent.[4]
In traditional Chinese medicine, the leaf has been used to treat asthma, malaria, hepatitis, and inflammation, as well as fungal, bacterial, and viral infections.[5] The leaves have been used to treat tuberculosis, menstrual symptoms, and eczema, and are chewed to relieve cough.[6], [7] Chinese mugwort is used in the traditional Chinese medicine therapy moxibustion to help heat the area being treated in acupuncture. [4], [8]
Eupatilin is a pharmacologically active flavone from Chinese mugwort.[9] A synthetic analog of eupatilin is being evaluated in various phase 1 and 2 trials for treating dry eye and gastritis.
Uses and Pharmacology
Anticancer activity of flavones isolated from Chinese mugwort has been found against several cancer cell lines in numerous in vitro and animal studies.
Antifatigue
A swimming test in mice administered essential oil for 30 days resulted in reduced lactic acid in the blood and increased elimination of lactic acid. Decreased consumption of glycogen and increased levels of urea nitrogen in serum were also found.[27]
Antifungal activity
The essential oil extracted from Chinese mugwort exhibited antifungal activity against 2 common storage pathogens of fruits and vegetables, Botrytis cinerea and Alternaria alternata.[28]
Antioxidant
The leaf polysaccharides showed strong free radical scavenging activity.[6], [29] Cancer-fighting action involving antioxidant enzymes has been documented on a leukemia cell line.[30]
Cancer
In vitro and animal studies
Growth inhibitory activity is documented for leaf aqueous extracts against a variety of human cancer cell lines, including those in breast, lung, pancreas, and prostate tissues.[15] Apoptotic death of mouse thymocytes was suppressed by a polysaccharide leaf extract that may modulate gene expression.[16] A leaf extract exhibited some inhibitory activity against a neuroblastoma cell line.[17]
Arteminolides, isolated from the aerial parts of Chinese mugwort, inhibited tumor cell growth in a dose-dependent manner on human colon adenocarcinoma cells and human lung cells, with no loss in body weight in mice.[18] An ethyl acetate leaf extract containing the coumarin flavones scopoletin and isoscopoletin inhibited leukemia cell growth in a cell proliferation assay.[19], [20] Additionally, the 2 substances also inhibited growth of a multidrug resistant leukemia cell subline.[19]
Jaceosidin, a flavone in several Artemisia species, induced apoptosis in a human ovary adenocarcinoma cell line by activating the mitochondrial pathway.[21] Apoptosis was also induced in human breast epithelial cells by generating free radicals or reactive oxygen species.[22] Jaceosidin inhibited cyclooxygenase-2 (COX-2) and matrix metalloproteinases in cultured human mammary epithelial cells; elevated levels of COX-2 and matrix metalloproteinases are found in numerous cancerous and transformed cells.[23] Interactions between E6 and E7 oncoproteins of the human papillomavirus and tumor suppressors (p53 and pRb), as well as growth of human papillomavirus-harboring cervical cancer cells, were also inhibited by jaceosidin.[16], [24] This inhibitory activity may be associated with the recovery of p53 and pRb tumor suppressors. Additional studies document similar anticancer activity of other isolated flavones. Some of the inhibition of the flavones is associated with farnesyl protein transferase interference. Oncogenic activity is abolished if farnesyl protein transferase activity is blocked.[25], [26]
Cardiovascular system
Although study details are limited, 2 chemical constituents of Chinese mugwort inhibited platelet aggregation.[31] A systematic review and meta-analysis of 4 trials (N=250) found a statistically significant improvement in systolic blood pressure (WMD, −4.91; P=0.0003) when A. vulgaris moxibustion was used in combination with antihypertensive medications compared to drug therapy alone. No adverse events were observed.[37]
Immune system
Jaceosidin inhibited T-cell–mediated contact dermatitis in mice by blocking activation of T lymphocytes leading to reduced swelling and inflammation.[32]
Version of fetal breech position
A randomized parallel trial (n=200) found no benefit in using A. vulgaris for moxibustion (heat generated by a burning stick containing the mugwort) to treat fetal breech position. After an average of 16 days, conversion to the cephalic position was found to be highly dependent on parity and independent of moxibustion.[36]

References
4. Li J, Zhao B. Safety concerns about the application of moxa. J Acupunct Tuina Sci. 2010;8(3):145-148.
5. Zheng X, Deng C, Song G, Hu Y. Comparison of essential oil composition of Artemisia argyi leaves at different collection times by headspace solid-phase microextraction and gas chromatography-mass spectrometry. Chromatographia. 2004;59(11/12):729-732.
6. Lan MB, Zhang YH, Zheng Y, Yuan HH, Zhao HL, Gao F. Antioxidant and immunomodulatory activities of polysaccharides from Moxa (Artemisia argyi) leaf. Food Sci Biotechnol. 2010;19(6):1463-1469.
7. Samuel AJ, Kalusalingam A, Chellappan DK, et al. Ethnomedical survey of plants used by the Orang Asli in Kampung Bawong, Perak, West Malaysia. J Ethnobiol Ethnomed. 2010;6:5.20137098
8. Adams JD Jr, Garcia C, Lien EJ. A comparison of chinese and american Indian (chumash) medicine. Evid Based Complement Alternat Med. 2010;7(2):219-225.18955312
9. Mishra BB, Tiwari VK. Natural products: an evolving role in future drug discovery. Eur J Med Chem. 2011;46(10):4769-4807.21889825
15. Shoemaker M, Hamilton B, Dairkee SH, Cohen I, Campbell MJ. In vitro anticancer activity of twelve Chinese medicinal herbs. Phytother Res. 2005;19(7):649-651.16161030
16. Chung HK, Bae EK, Ji HJ, et al. An oligosaccharide fraction from Korean mugwort herb suppresses death of the mouse thymocytes in culture by down-regulating the Fas death receptor gene. Biotechnol Lett. 2003;25(18):1549-1553.14571981
17. Mazzio EA, Soliman KF. In vitro screening for the tumoricidal properties of international medicinal herbs. Phytother Res. 2009;23(3):385-398.18844256
18. Lee SH, Lee MY, Kang HM, et al. Anti-tumor activity of the farnesyl-protein transferase inhibitors arteminolides, isolated from Artemisa. Bioorg Med Chem. 2003;11(21):4545-4549.14527550
19. Adams M, Efferth T, Bauer R. Activity-guided isolation of scopoletin and isoscopoletin, the inhibitory active principles towards CCRF-CEM leukaemia cells and multi-drug resistant CEM/ADR5000 cells, from Artemisia argyi. Planta Med. 2006;72(9):862-864.16881019
20. McGovern PE, Christofidou-Solomidou M, Wang W, Dukes F, Davidson T, El-Deiry WS. Anticancer activity of botanical compounds in ancient fermented beverages (review). Int J Oncol. 2010;37(1):5-14.20514391
21. Lv W, Sheng X, Chen T, Xu Q, Xie X. Jaceosidin induces apoptosis in human ovary cancer cells through mitochondrial pathway. J Biomed Biotechnol. 2008;2008:394802.18769496
22. Kim MJ, Kim DH, Lee KW, Yoon DY, Surh YJ. Jaceosidin induces apoptosis in ras-transformed human breast epithelial cells through generation of reactive oxygen species. Ann N Y Acad Sci. 2007;1095:483-495.17404061
23. Jeong MA, Lee KW, Yoon DY, Lee HJ. Jaceosidin, a pharmacologically active flavone derived from Artemisia argyi, inhibits phorbol-ester-induced upregulation of COX-2 and MMP-9 by blocking phosphorylation of ERK-1 and -2 in cultured human mammary epithelial cells. Ann N Y Acad Sci. 2007;1095:458-466.17404058
24. Lee HG, Yu KA, Oh WK, et al. Inhibitory effect of jaceosidin isolated from Artemisia argyi on the function of E6 and E7 oncoproteins of HPV 16. J Ethnopharmacol. 2005;98(3):339-343.15814270
25. Nakasugi T, Nakashima M, Komai K. Antimutagens in gaiyou (Artemisia argyi levl. et vant.). J Agric Food Chem. 2000;48(8):3256-3266.10956099
26. Seo JM, Kang HM, Son KH, et al. Antitumor activity of flavones isolated from Artemisia argyi. Planta Med. 2003;69(3):218-222.1267752427. Han J, Anji H, Zhixue X, et al. Anti-fatigue effect of essential oil extracted from Artemisia argyi. Wuhan Daxue Xuebao (Yixue Ban). 2005;26(3):373-374, 390.
28. Wenqiang G, Shufen L, Ruixiang Y, Yanfeng H. Comparison of composition and antifungal activity of Artemisia argyi Lévl. et Vant inflorescence essential oil extracted by hydrodistillation and supercritical carbon dioxide. Nat Prod Res. 2006;20(11):992-998.17032625
29. Liao H, Banbury LK, Leach DN. Antioxidant activity of 45 Chinese herbs and the relationship with their TCM characteristics. Evid Based Complement Alternat Med. 2008;5(4):429-434.18955214
30. Jung DY, Park SW. Cytotoxicity of water fraction of Artemisia argyi against L1210 cells and antioxidant enzyme activities. Yakhak Hoeji. 2002;46(1):39-46.
31. Zhong Y, Cui S. Effective chemical constituents of Artemisia argyi Levl. et Vant for inhibition of platelet aggregation [in Chinese]. Zhongguo Zhong Yao Za Zhi. 1992;17(6):353-354, 383.1418579
32. Yin Y, Sun Y, Gu L, et al. Jaceosidin inhibits contact hypersensitivity in mice via down-regulating IFN-γ/STAT1/T-bet signaling in T cells. Eur J Pharmacol. 2011;651(1-3):205-211.21093428
36. Bue L, Lauszus FF. Moxibustion did not have an effect in a randomised clinical trial for version of breech position. Dan Med J. 2016;63(2). pii: A5199.26836801
37. Yang X, Xiong X, Yang G, Wang J. Effectiveness of stimulation of Acupoint KI 1 by Artemisia vulgaris (Moxa) for the treatment of essential hypertension: a systematic review of randomized controlled trials. Evid Based Complement Alternat Med. 2014;2014:187484.24744807